About Us / News
Purveyor of Fine Gems / Maker of Handmade Jewelry
As a company, we strive procure and cut some of the finest gemstones from around the world and produce top quality bespoke jewelry.
Creating only a few individual pieces each year, it is our greatest passion. Each piece of jewelry is painstakingly made by hand in our Seattle workshop using the finest materials. 
In The News
Jeremy Dunn our Goldsmith has been featured in an interview by Simon Dussart of Asia Lounges. Asia Lounges is a gemstone and Jewelry company that Features artist in our trade. Asia Lounges additionally features a beautiful array of individual gemstones an unique jewelry.
Please follow this link to see their interview  : https://www.asialounges.com/blogs/a-gem-dealers-journal/a-gem-dealers-journal-the-rebirth-of-hand-made-jewellery-interviewing-jeremy-dunn
Dunn & Co.  Placed Third in the Classical Division of the American Gem Trade Associations 2019 Spectrum Awards. Jeremy Dunn handmade a Indicolite Tourmaline ring surrounded by Platinum and Ideal Cut diamonds. The Classical Category represents timeless style. https://agta.org/spectrum/enter-spectrum/2019-winners/
Dunn & Co.  Placed 1st in Menswear Division of the American Gem Trade Associations 2020 Spectrum Awards. https://agta.org/spectrum/entering-spectrum/2020-winners/
5.83ctw Peach Mahenge Malaya Garnets Set In Platinum surrounded by 1.35ctw in Blue Sapphires
These Cufflinks were recently featured in an article by Katerina Perez. Please click the titled link below to see the full article.
May 26, 2021
---
Tradition dictates that women have plenty of options for their bridal jewellery, from tiaras and pearls to chandelier earrings and diamond-set necklaces. For men, however, the situation is a little demurer, with splashes of colour and precious metal peeking from shirt cuffs in the form of cufflinks, perhaps alongside a tie pin, dress set or series of shirt studs. If we set aside modern notions of masculinity for a second, there's a rich history of men's accessories waiting to be explored and cufflinks have an important role to play. Here are some elegant shirt fasteners that are perfect for a wedding in celebration of Bridal Week on Katerinaperez.com.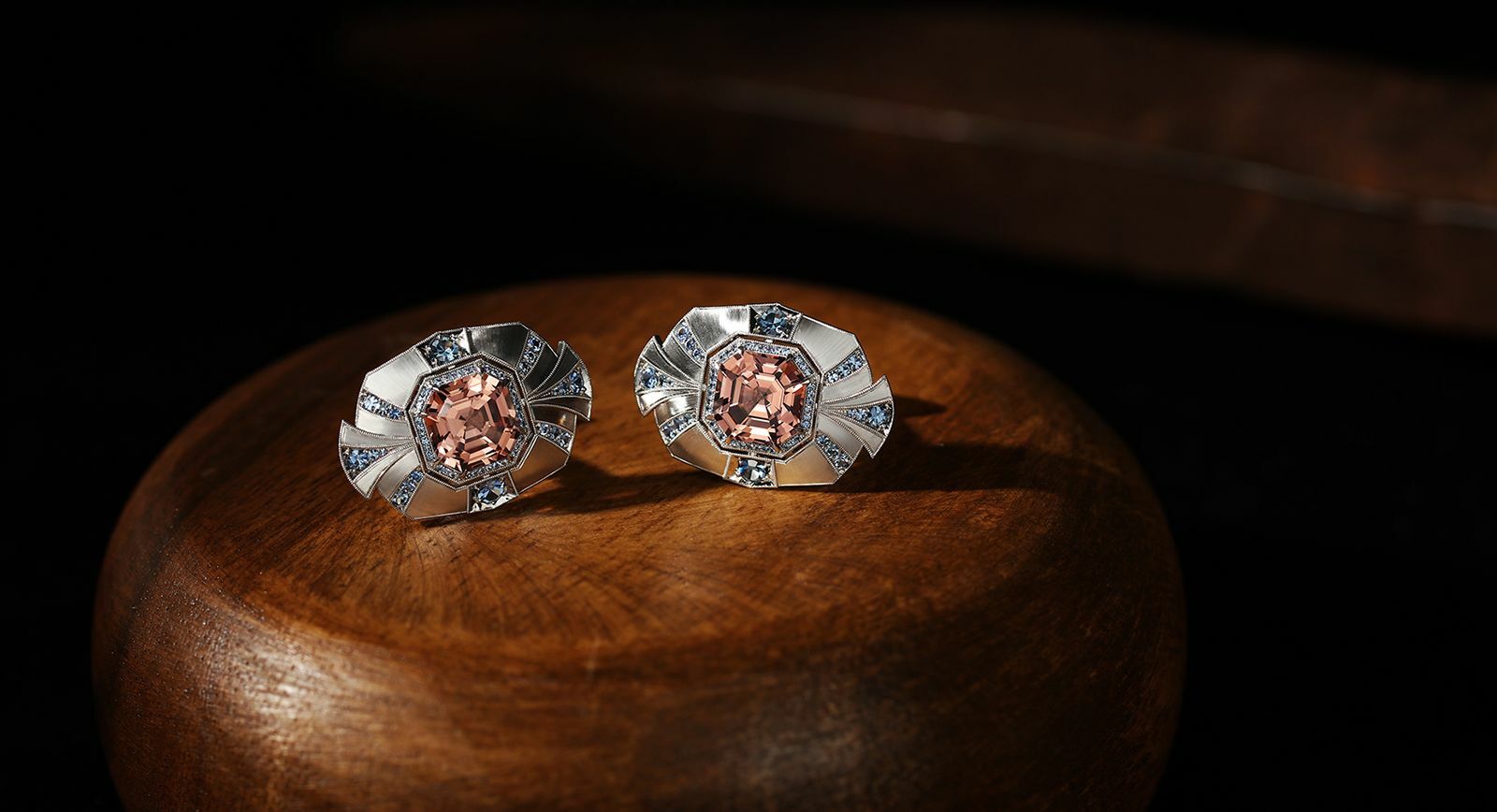 zxvnzdgzdgj